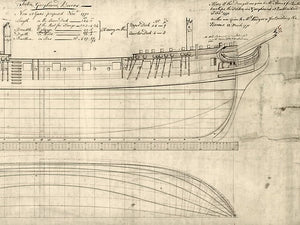 HMS Triton Plan Access (MSW)
These plans are for Model Ship World members participating in the group build of either the HMS Triton cross-section model or the HMS Triton plank-on-frame full hull model. 
Model Ship World Membership Required
This purchase provides access to the HMS Triton area on Model Ship World.
We need your MSW user name to give access to the link. The Admins cannot give you access without your MSW user name.
After payment you will get a PM on MSW with the details to access the plans. This may take up to 48 hours as it has to be done manually by our Admins. If you do not get a PM, please log on to MSW and check if your link is visible. It should show as a new link in the Triton build area - but you MUST log on to see it.
About the HMS Triton
The HMS Triton is a 28-gun frigate of the Mermaid sixth rate class. The Mermaid-class was designed in 1760 by Sir Thomas Slade based upon scaled lines taken from the captured French L'Abénaquise of 1757. The Admiralty ordered two groups of frigates, the first three in 1760, and the second in 1770. The second group had a slightly longer keel, and was dubbed the Modified Mermaid class. The HMS Triton, the fifth frigate constructed, was launched on October 1, 1771 at Portsmouth.
In 1775, Skeffington Lutwidge took command of the HMS Triton, eventually sailing her to America. Amongst other actions during the War of Independence, the HMS Triton captured the American privateers Pompey and Gates as well as participating in the 1780 Battle of Cape St. Vincent.
The Triton was decommissioned in early 1796 and broken up at Deptford.
This item is not eligible for the NRG member discount.