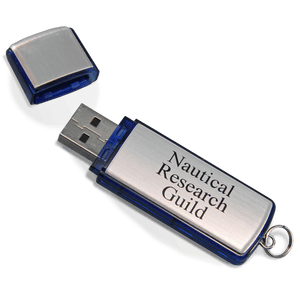 The Nautical Research Journal, Volumes 1-60, 1949–2015
The complete collection of the The Nautical Research Journal is now available on USB flash drive. This set contains PDF reprints of Volumes 1 through 60 of the Nautical Research Journal.
Available on USB flash drive only.  For more information on this option, click here. 
Contents
Includes thousands of pages of useful information on ship design, maritime history and archaeology, shop notes, book and model reviews, and much, much more. Each issue of the Journal is complete' including every page, article, photograph, illustration, plan, table, letter to the editor and every advertisement!
This collection is a combination of the other available collections.  
The digital transfer is high quality with clear, easy-to-read text. Line drawings and photographs are reproduced faithfully in color and black-and-white.
The archive contains a wealth of nautical research and ship model building information unobtainable anywhere else. Many of the issues contained on the CD have been long out-of-print. The electronic versions of the Journal have been organized by volume to match the printed originals. To simplify looking up articles and references, each volume has been bookmarked to help you easily navigate from article to article. Page numbers in each PDF document match those of the printed original.
The set also contains John Barry's comprehensive printed Index to Volumes 1 through 40 which has been converted to a searchable electronic format allowing easy searching and navigation. The searchable index is in HTML format which runs within your computer's web browser. This allows you to have the searchable index and the Journal open simultaneously on your computer.
System Requirements
The documents are provided in the standard Adobe PDF format.  You will need the the ability to view PDFs on your computer.  Click here to learn more about viewing PDFs.

For the USB version, your computer must have a standard USB port.  For information about this option, including system requirements and choosing the right option, click here.