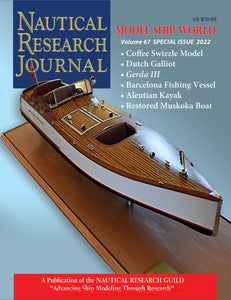 Nautical Research Journal Volume 67 Special Edition
The Nautical Research Guild Volume 67 Special Edition - Small Boats is available as a digital download.  The download will be sent by our office staff during office hours after payment is made.  Thank you for your patience.

The special edition includes:
Editorial, The Nautical Research Journal's first special edition by Paul Fontenoy
A coffee swizzle model of Howard I. Chapelle's Seal Cove skiff by Dan Brummer
Modeling a seventeenth-century Dutch galliot by Charles Cozewith
Gerda III: The making of the model by Irwin Schuster
Laud Catalan: A Barcelona fishing vessel by Gilbert McArdle
The single-hole Aleutian kayak frame by Alan O'Neill
Lady Fay: A model of a restored Muskoka boat built by Greavette Boats in 1932 by Ray Peacock
This product is not eligible for the NRG member discount.