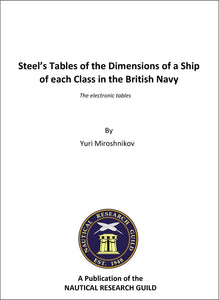 Steel's Tables of the Dimensions of a Ship of each Class in the British Navy
The Nautical Research Guild is proud to offer this reprinting of Steel's Tables – Compiled and arranged by Yuri Miroshnikov for Model Ship World and the Nautical Research Guild.
This is a great version of Steel's Tables neatly and clearly arranged to be very useful in the shop.  This downloadable version can be printed out page by page so you can print out the pages you need for your current project. 
Want larger pages to tape to the wall by your work area?  Download to a flash drive and take it to a print shop and have the needed pages printed out in any size you want.
This book is provided as a PDF download. 
Details
Digital book, delivered as a PDF that is viewable on computers, tablets and mobile devices.
104 pages.
System Requirements
These articles are provided in the standard Adobe PDF format.  The PDF will be available for download shortly after your order is processed.  You will need the ability to view PDFs on your computer.  Click here to learn more about viewing PDFs.